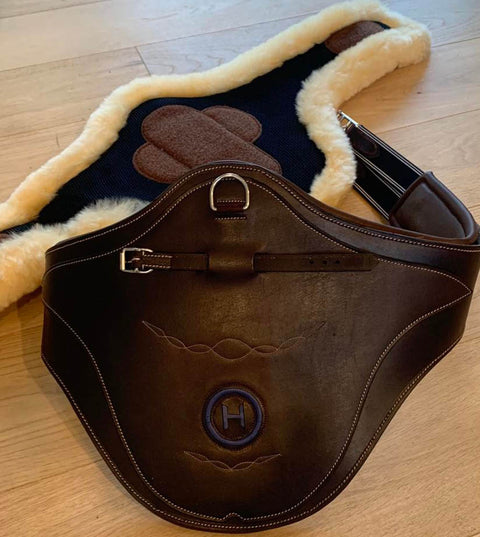 Hinterland
Game Changer Stud Guard
The Game Changer sheepskin/leather lined stud guard is exactly as the name suggests.  A game Changer. Versatility is key, velcro on the protective plate allows you to interchange both the sheepskin and padded leather liners and allows for easy care. The wide protective plate offers comfort and safety when jumping. Anatomically shaped to relieve pressure on the shoulders and elbows and allow freedom of movement. It is designed for safety with three layers of super strong Hinterland elastic at each end to ensure the girth fits snug. Finished with Fancy stitch detailing and Hinterland logo.
Purchase girth with liner or liner only if you already have the Baa Sheepskin Stud Guard and feel like a change. 
The Sheepskin Stud Guard is padded with an ultra-soft sheepskin lining with a sweat wicking fabric underneath. 
Composition
Comes with two liners, one lined with sheepskin and a sweat wicking fabric underneath, and one leather lined with calfskin padding

Contrast white stitching
Fancy Stitch detailing and Hinterland logo

Anatomically

 shaped

Hand-crafted from signature Hinterland, pre-oiled leather -soft, supple and ready to put straight on your horse.
Stainless Steel Fittings
Dimensions
Available in Havana

Available in 110cm, 115cm, 120cm, 125cm, 130cm, 135cm, 140cm, and 145cm
Please consider that due to the thickness of the sheepskin liner, you will need to go up at least one size from your usual girth. 
Please Note: Black is only available on special order.  Please get in touch with us if you would like to order.
Need a hand with sizing? At Hinterland, we care about finding the best possible fit for yourself, your horse or your pup. If you have any questions please email us at amy@hinterland.net.nz