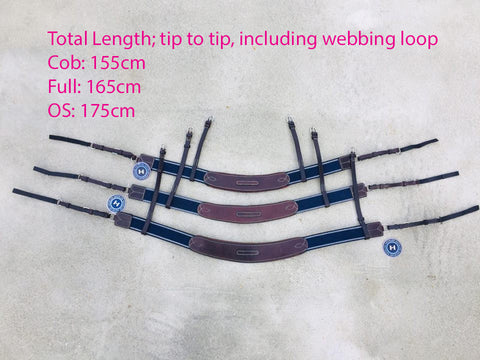 Hinterland
Freedom Breast Collar
The ever popular Freedom Breast Collar is made with wide elastic and is a traditional sling style breastplate. Choose from either Navy elastic, a modern take on this breastplate, or opt for Tonal elastic to match the leather colour for a classic hunter look. Wide elastic and calfskin padding provide stability while allowing your horse freedom of movement. Fully adjustable with web straps to the girth. Crafted from our signature Hinterland, pre-oiled leather -soft, supple and ready to put straight on your horse.
Features
2 Point style with webbing straps to girth with loops

Calfskin padding padding across wither and chest

Fully removable strap across wither 

Contrast white stitching

Stainless steel fittings

Option to use in conjunction with our Ultimate Martingale.
Dimensions
Available in both Black and Havana

Available in both Navy or Tonal elastic to match leather colour

Available in Cob, Full and Oversize.

These are a smaller fit, so if in doubt, go up a size when ordering
At Hinterland, we care about finding the best possible fit for yourself, your horse or your pup. If you have any questions please email us at shop@hinterland.net.nz